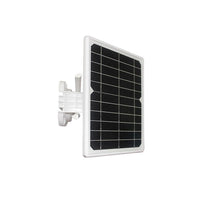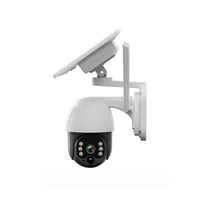 Description
The Crorzar Solar 360 is a 3mp (50% better than 1080p)  outdoor solar powered wifi security camera that helps you see and hear exactly what's happening at your home or business, in your yard, or to your vehicles no matter where you are.
It completely wireless and an important part of any motion activated security camera system. Remotely control and rotate your camera from the free app and instantly see your home, yard, pets, and loved ones from virtually anywhere on the planet.
Enable floodlight camera mode to have your smart wifi camera automatically become a motion activated floodlight. This wifi flood light camera gives you color night vision, a remote controlled smart wifi floodlight, and will light up whenever motion is detected.

Or if you prefer stealth, this night vision camera delivers an incredibly clear picture even in total darkness thanks to six built in infrared lights.
But the best part? Setup is a breeze and can be done by anyone! The included solar panel and rechargeable batteries mean your camera is completely solar powered and wireless, and can be set up virtually anywhere.
Crorzar Cameras are also the only major wifi security cameras with no monthly fees required to access video storage or advanced features. It all come standard!
Specifications
Security Camera
•HD 1080p
•6 mm Professional Wide Angle Lens
•300° Pan and 100° Tilt
•25 FPS Frame Rate

Color Night Vision
•4 White Lights
•Up to 100 Foot Range
•.05 Lux for Color
Regular Night Vision
•0 Lux for B/W
•4 Infrared Lights for Regular Night Vision
•Up to 100 Foot Range

Motion Detection
•Advanced Motion Detection
•Human Identification
•Custom Zone Protection

Physical Specs
Camera
•6.7 in. x 4 in. x 6.3 in.
•19 oz.
•White ABS Plastic
Solar Panel
•8 Watts
•14,400mah battery
•9.5 in. x 7 in.
•31 oz.

Power and Connection
•Supports 802.11 b/g/n 2.4ghz Wifi Networks
•H.265 Compression
•Supports Micro SD cards up to 128gb

Miscellaneous
•Built in High Fidelity Speaker and Microphone for Two Way Audio
•Operating Temperatures -10°-140°F
•Ip66 Weatherproof Rating

Viewing
•Crorzar Camera App

What's Included
•Crorzar 3mp Solar 360 Outdoor Wifi Security Camera with Night Vision and Floodlight
•Camera Mounting Kit
•8 Watt Solar Panel
•Rechargeable Batteries
•Users Guide
•Unlimited Tech Support
Shipping/Returns
Crorzar proudly ships your cameras directly from our warehouse in St. George, Utah. 

Most orders ship within a single business day! 

We ship using USPS so your orders arrive quickly, usually within 3-7 business days of your order being placed. 

If a return is necessary for any reason, all shipments and returns are processed quickly at our Utah offices.
SOLAR PANEL AND RECHARGEABLE BATTERIES INCLUDED
Battery Powered and Completely Wireless
Rechargeable batteries (included) and a solar panel means you can mount this solar powered outdoor wireless security camera anywhere the sun shines.
SECURITY CAMERAS WITH NO MONTHLY FEES
Finally, a Home Security Camera System Without Monthly Fees
The only major security camera brand that does not require monthly fees for video storage and advanced features. Save up to $300 per year.

EASY TO INSTALL HOME SECURITY CAMERAS
Simple Two Minute Setup
"If you can hang a picture, you can mount this camera".

Designed to be easy, Crorzar Cameras are simple enough for anyone to setup without fancy tools or techy know-how. Go from box to live view in minutes.
Frequently Asked Questions
Yes. When connected to wifi the cameras can be viewed and controlled from virtually anywhere in the world. Without wifi you can still connect directly to the cameras wirelessly when you are near the cameras.
You can adjust the sensitivity of the motion detection. Indoor cameras will detect motion up to 40 feet away, while outdoor cameras can detect motion up to 100 feet away.
It depends. Currently the cameras that plug in to power follow the Onvif protocol and can be used with some third party apps that work form your laptop or computer.
The cameras do not include a micro SD card unless specifically stated. If you purchase an SD card at checkout, we will install it for you before it ships.
This depends on a variety of factors, including the enviroment, the materials your home is constructed of, your router, and several other factors. Generally, if you can get a wifi signal at a specific location on your phone then the cameras will also pick up the wifi signal.
Some third party applications will work with the hardwired cameras.
Customer Reviews
Write a Review
Ask a Question
01/01/2022
Kurt M.

United States
I recommend this product
360 solar outdoor
You need a longer cord between the solar camera and panel Having to do return for that reason Otherwise looks like good product
10/14/2021
Ariel P.

United States
I recommend this product
We LOVE this camera
We love this camera! Easy to install, and when we're at work or away from home, we feel more secure since we get notified by the sound every time someone or animals get close to the entrance. We can see on the video, and also talk to the person who is at the entrance by the microphone system. And it's solar power! We definitely recommend this item.
10/14/2021
Nathan

United States
I recommend this product
Super easy to set up, great quality
I needed a remote battery powered camera but the ones I tried never lasted as long as promised. This Crorzar camera was perfect. It seems to last as long as needed and has perfect clarity and picture.
I recommend this product
Excellent Security Camera
This is by far the best security camera I've had. You can move the camera around from the app which is really cool and if you put it in the right place you can cover a ton of area. The solar panel holds the batteries and there is room inside of 6 18650's which is probably a bit of overkill, it comes with 3 installed and room for 3 more, unless it's dark for days on end the 3 batteries should be plenty, but always good to have options. The motion detection is spot on and starts quickly, works much better than my Ring doorbell. Overall awesome high end security camera.
Solar Security Camera
I purchased two security cameras because of the current public disorders. First thing to do is charge the battery. Paring with the network was easy. I leveled the template, drilled the holes and mounted the unit. The camera works perfectly, no glitches. Easy to adjust the view using the camera's application. At night you cane view in color or black and white. So far they are working flawlessly.